Assynt
A small crofting community in the north-west corner of the Highlands, WWOOFing in Assynt taught me the value of people in a self-sufficient lifestyle; the traditions of sharing resources and manpower in this remote place, of trading favours and salvaging wood from the sea, of enjoying vegetables hard-won from thin soil and fish caught in a high loch.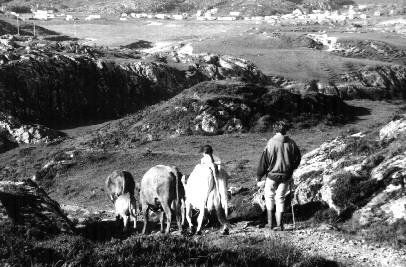 Our milk, cheese and yoghurt was supplied by "Molly", a beautiful Jersey cow - with a little help from Anna of course. Our hosts, Anna and Ray, were crofting a traditional mix of poultry, rabbits, bees, vegetables and fruit with hill sheep on the common grazings. We arrived just at shearing time and the first task was to bring down the scattered flock into a fenced field. We gained a whole new respect for sheep-dogs by the end of the day (wishing we had one!) and by the following morning... a whole new respect for sheep, who had promptly found their way out of the field and onto the hill again! The shearing was duly completed though and those fleeces too dirty to send to the wool board were used as a nutritious mulch for the young willow nursery.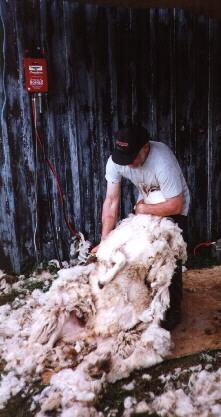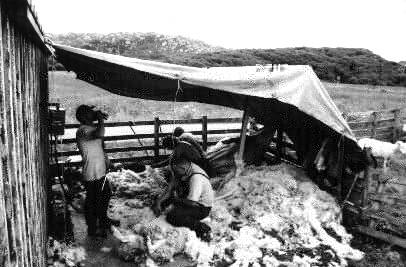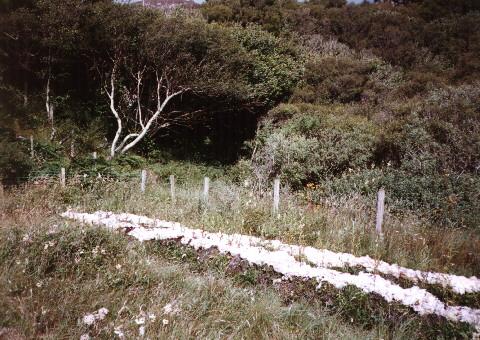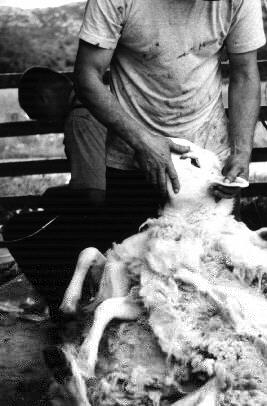 Anna was very much involved in the local Community Woodland scheme - the land had been acquired from a variety of grant-awarding bodies in 1999 and a management plan was under way to guarantee its future as a resource for the area. The terrain of Assynt comprises a hummocky stretch of gneiss, from which a few irregular peaks of ancient Torridonian sandstone rise in sometimes fantastical shapes - well-known mountains include Stac Polly and Suielven. The woodland is mainly birch and scrub willow with the added bonus of a bountiful crop of fungi in late summer and early autumn - chantarelle hunting was a worthwhile activity! WWOOFing tasks included creosoting our beautiful bothy accommodation - rebuilt from the ruins of an existing byre; splicing rope to secure lobster creels, hoeing vegetables, picking fruit, feeding animals and even helping Anna deal with her busily swarming bees! Our WWOOFing companion was Mario - a long-term WWOOFer from Germany who had been visiting each summer for 5 years. We even found time for some culture with a concert by a visiting Celtic band and the local Highland games both coinciding with our stay.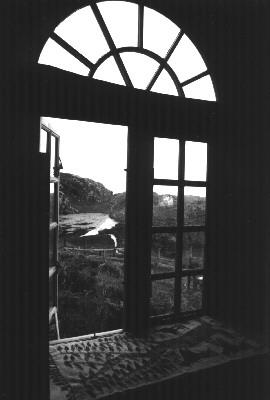 We also learnt the problems small farmers face with bureaucracy and legislation geared towards the large, commercial operator. This is magnified by the remote location of many Highland crofts and although subsidies exist, they are becoming increasingly at risk. A little thought applied to the priorities and problems of the crofter/ smallholder in today's farming climate would produce a more sympathetic and sustainable government strategy.
---